To be fair, the Phins offense doesn't look bad, that is, aside from QB. If you don't know what I'm referring to, Ryan Tannehill just sustained a non-football injury that's expected to keep him out for enough time to make Miami actually consider Colin Kaepernick and, of all people, Chicago Bears legend Jay Cutler.
Smokin' Jay, BIG if True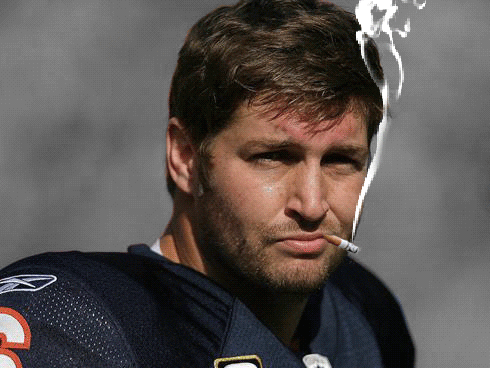 People are surprised by this move over signing Kap and I'm not quite sure why. Looking back to the one year he spent on the Bears staff in 2015, Adam Gase truly had a way with Jay that produced results reminiscent of his Broncos days I thought to be longggg goneeeee. I know 6-9 isn't great but a +10 TD – INT ratio is something he's only accomplished once aside from '15.
Kaepernick
If the Browns haven't signed Kaepernick yet, I think it's safe to say he's probably not worth it. Looking back to 2016, we see this. Keeping in mind he didn't get hurt or pulled, try to explain it to me, go ahead… yeah that's right it's not possible. What the fuck is this stat line? The Bears defense last year was one of the most pitiful units I've ever seen fielded in an actual game and you complete 1/5 for 4 yards? If I remember correctly I think he didn't have a completed pass through three quarters. Focus on his kneeling shit all you want, but all these people and their selective memories are going to fuck over a desperate franchise on another level.
Alternatives
I mean, there's Matt Moore, but is he even alive after this hit? I remember watching this live wondering how or why the fuck he was going to get up as that's one of the nastiest hits I've seen since I watched Johnny Knox die on the field in front of my very own eyes in 2011. RIP Johnny, Chicago loves ya dearly. But back to the subject at hand, Moore legitimately looked like some sort of giant beached sea creature out-of-water rolling around gasping for air. If Bud Dupree didn't get fined for that Roger's going to have hell to pay.
Da Bears
If this whole situation has taught me anything it's that at least the Bears aren't completely fucked when it comes to the most important position on the field. Knowing our luck, at least one QB will be injured by Week 8 and that's not even ultra-pessimism and me hating on Mikey G, I'm just used to it at this point.
Until tomorrow.