*NOTE: I wrote like 75% of this half asleep on the train home from the city last night so cut me some slack.*
I'm falling asleep riding this 9:40 train back to the burbs, but at least the Cubs won 3/4 in the Crosstown Cup. This is my life, and if you don't like it, you don't have to associate with me. I'll probably forget I wrote this in the morning as I'm about to pass the fuck out so let's get this outline of each game out of the way right now so I don't have fucktons of writing tomorrow. Go Cubs Go.
Game 1: 3-1 SOX
Yeah, I'm out of bitching out Prof, but I mean what else did you expect. The dudes did everything he needed to, he pitched well and he even got a fucking RBI batting (BA). He's been injured for god knows how long and for the past two weeks he's played scrubs in AA and AAA. The Sox suck, but he's not going to throw a no-hitter. Also, maybe cycle Jon Jay in more than once every fucking decade Joe, 4-for-4 (granted against Miguel Gonzalez) deserves some love.
Game 2: 7-2 CUBS
The 2nd half is for the Spanish Cubs. Willy is just on another planet right now (2nd amongst Catchers for HR, 2nd in HR since All Star Break) and I'm still not sure what kind of conversion van-made crack Joe's smoking, but it's time to start Almora. Happ's had his time, and I think he'll be good in time, but Almora is good NOW. Brotha can fucking hit and field, what excuse do you have? Please don't pull your typical playing the same three dudes in the outfield and let him go to like the fucking Padres for nothing. Also, good job John Lackey. I mean, you only gave up two runs and threw less than half you're pitches for strikes, but at least nobody hit a bomb off you.
Game 3: 8-3 CUBS
FUCKING RIGHT CHICAGO. This game turned this series around into the bloodbath you know it as today. Nobody on the Sox knows how to throw consistent strikes that aren't meatballs and I FUCKING LOVE IT. Also, hey CWS, you know you're bad when a team only needs two mediocre pitchers to absolutely dominate, and one's a reliever who consistently gets shelled. You better hope those young guys pan out or you're absolutely fucking fucked.
Game 4: 6-3 CUBS
2 homers, a triple, and 4 RBIs for Schwarbs, what a fucking day to be a Cubs fan. I mean, I'm almost certain we'll deal him as he's looking up over the last couple series' but I'll enjoy it while it lasts. At least the Sox are officially at the 'so bad it's funny' level. Don't think I've ever been more glad to be a Cubs die hard. In other news, the Cubs Twitter guy is definitely having a good week. You know when you're able to throw in all time great captions from Happy Gilmore that you're at the top of your game (and so is the team you're covering). Keep doing you and we'll keep showing you love.
Takeaways/Observations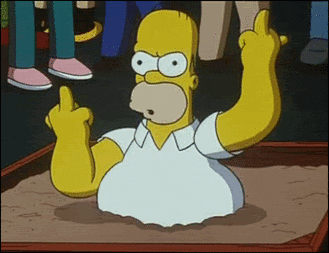 FUCK THE SOX. I'm so happy there aren't even words to fully explain it. I obviously hate the Sox, that's clearly apparent, but after the first game where the Cubbies played like trash, I'll admit, I was worried.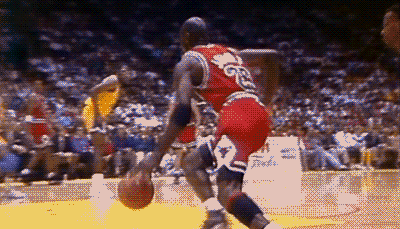 (For reference the Cubs are MJ, and the Sox are whoever that was on the Lakers) The White Sox are as bad as I predicted them to be, if not worse. They have no pitching, no hitting aside from Avasail Garcia and Jose Abreu, and their entire coaching staff is an absolute joke. Don Cooper should be fired immediately, in fact, I'm not quite sure why he wasn't fired post Robin Venturas mediocre second year. You're never getting anywhere with that guy telling his pitchers to throw meatballs 70% of the time, and if you don't believe me look at the difference in total runs. 22-11, DOUBLED THE FUCK UP.
Hawk Harrelson is maybe the worst color commentator of all time. There were periods during that second game's WGN broadcast that I wondered if he was even still in the booth. The dudes also the biggest homer in the MLB. I don't necessarily have huge beef with that as Len Kasper/Jim Deshaines are too, but when 90% of the time you call players by nicknames you made up, it's excessive and annoying. "Ohhh, you have got to be bleeping me."
Kyle Schwarber is, wait for it…. BACK. I know I've said this before and I was dead wrong (he went like 1/200 post-me saying that) but I'm supremely confident I'm right now. Like I said earlier, I'm almost certain we deal him for an arm or a backup catcher (as he can't catch for shit) but lets enjoy it while it lasts.
Why is there an actual cup for winning this once-a-season rivalry? This isn't an actual championship or a fucking European sporting event, where they give them out so much it diminishes the purpose of a trophy. I appreciate the gesture, but like still puzzled as to why the Cubs and Sox need to justify the best rivalry in baseball with a gimmicky trophy that looks like it was made in 1980s for a high school rec league and was found at a Goodwill.
Game and a half on the Brew Crew as they got fucking demolished yesterday, the NL Central is truly a beautiful thing. 8 homers, 4 of them back-to-back-to-back-to-back.
Until tomorrow.