I don't think Becks was on a Steven A. 'Lay off the Weeeeeeeeeeed' level when this came out, but definitely within the year. This also definitely helps to explain his ascension (and eventual firing) into the imbecile out of coaching currently.
"…and the last 'E' stands for "Energy". Energy, being a positive influence on the people around you… being a brother, the band of brothers…": Oh, you mean like denying players medical care, mentally and physically abusing them, and then trying to kick them off the team? That kind of positive influence. Noted, got it. And just by the way, if my brothers ever treated me even remotely like how you treated your players, I'd kill them (not literally obviously).
Overall, it's things like this (and the many many more examples) that make you think, how did Illinois football win ANYTHING from 2012-14. Also, how many players did he actually fuck up for life because of his middle school comprehension skills/brain. Illinois is one of the top academic schools in the country, but still a shitty football school. These kids should be focused first and foremost on their schooling, as no matter what, they're going to get trampled on the field.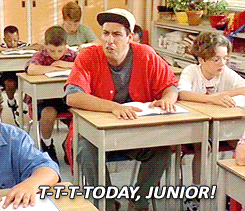 Stuttering like some Billy Madison motherfucker… T-t-t-t-t today, Junior!
Until tomorrow.