Mike Gundy, American Hero
Mike Gundy is the hero no college football fan ever thought they needed, but, at least for me, he certainly turned out that way. If I didn't love U of I so much, I'd transfer to Oklahoma State immediately for the sole purpose of cheering for a Cowboys team coached by that beautiful man.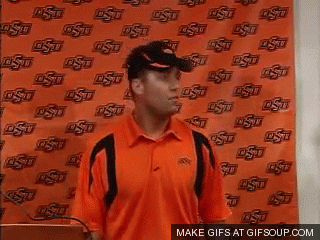 Maybe I'm biased because I'm currently in the process of growing my hair out in a mullet-like fashion. I say "-like" as if I haven't totally committed, which I partially true cause I haven't shaved the sides down yet, but I promise it's coming. People are going to say his haircut is too 80's and/or outdated, but if you look at it from the perspective of branding OkSt football in a certain light, it's an onto-Waveland, window-shattering yabo (aka home run, but yabo is more fun).
Case-in-point, the headaches from the two Big 12 powerhouses and recruiting rivals; Tom Herman (Texas) and Lincoln Riley (Oklahoma). Notice anything in particular? No? Their hair game is fucking pathetic. I don't care if your methods are natural or via plugs or some Bosley shit, if you're a football coach of any kind in the American South, grow your fucking hair out. In todays day-and-age, no kid wants to play for some balding-head ass or military-looking head ass dudes. Brilliant play from Gundy, always keepin' with the times.
$1,000,000 Mullet
As crazy a take as this is, he's probably right. Post-working in media buying/planning for a well-known national brand, I've learned a couple things. 1. Advertising is FUCKING EXPENSIVE. 2. Sports ad money is fucking insane. Now, as they have pretty much nothing else going for them, I'm sure Oklahoma State gives more than enough funding to it's football program. But even still, unless you're an SEC power, UCLA, USC, Texas, Oklahoma, Notre Dame, OSU, or Michigan, which, obviously the majority of teams are not, you don't have multi-million dollar ad budgets to help build a brand for recruiting. I can't even begin to fathom how much that near-4 minute special segment with Barry Melrose was in prime time, but I've gotta believe if it was specifically paid for, it'd be in the $300-500K range. So hate on me if you want, but you can't blame the guy for raking in millions in free TV time.
James Washington
There's a good chance you have no idea who this guy is. I've gotta be honest, before today, I didn't either. But after some research, it turns out this guy isn't even a scrub. You would think it wouldn't matter how good or bad a player is, anyone could do this, but if you really rack your brain for examples, it's usually scrubs who know their lives are going nowhere after their four, often five years of college football. And yet, 71 catches for 1,380 yards and 10 TD's begs to differ. Though he's '1st round good', this is one hell of a gutsy kid. He'll either A. Have to run until his legs break or B. Be named a team captain and treated like a son by Coach Gundy.
This hair is as America as it gets, and if you don't like, or at least respect it, then fuck you. Long live the Mullet, long live Mike Gundy and Oklahoma State football.
Until tomorrow.