Usually I don't start blogs until after the games are over, but as I write this in the top of the 9th with the Cubs up 8-0 with runners on first and second with nobody out, I pretty sure I'm in the clear. What a fucking series from the Cubs: 41 hits, 10 homers, 27 total runs, and most importantly, 3 W's. The Orioles aren't the hardest competition in the world, but its a start, and JQ's performance was one for the ages.
José Quintana, kingmaker.
What a fucking intro to the Cubs organization for JQ. 12K's start ties the team record for most strikeouts in a Cubs opener (Matt Garza, 2011), and it most of the time, it wasn't even close. I'll admit, I was initially nervous I talked myself into Quintana as a good 2nd ace on the staff with Lester underperforming, but after today's performance, all doubts I had with the trade were erased. Granted, the Orioles are worst in the division and now-7 games sub .500, but holding a team to three hits is tough to accomplish v. any opponent. His curveball alone is worth the $7 million he's making this year, that shit was absolutely nasty. Hopefully that Willy — Quintana hispanic connection shines throughout the rest of the regular season.
Willy Contreras ran shit: first 4-hit game, 8-for-14 on the series (.571) with Victor Caratini's bats
Bryzzo goes yard, Rizzo yabos back-to-back games, KB 3-for-4, HR in game 3
Pretty much everyone I said was playing like shit showed up BIG TIME.

JHey — 6-for-13 (.462)
Willy (above)
Addi — 4-for-12 (.333)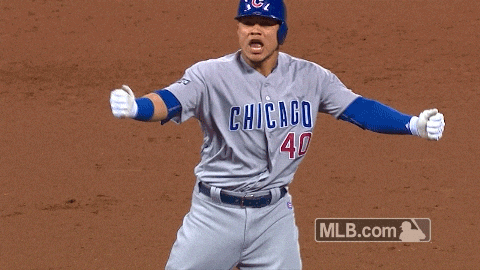 Maybe this years' Orioles team just sucks, or maybe the Cubs benefitted from a big time hitters ballpark. Either way, is start to the second half is exactly what the doctor ordered. Consistent hitting + above average defense + much improved starting pitching (omitting Mike Montgomery's start Friday night) = OG CUBS BASEBALL. Glimpses of 2016 in both this Cubs offense and pitching staff is a hopefully a sign of good things to come.
In my mind, the as the Cubs are 100 emoji back. Not having to make shit up about why the Cubs suck ass is a nice change of pace. I know it won't keep forever, but for now, 3-0 to start the 2nd half feels good. In addition, the Brewers lost, and overall, life as a Cubs fan is good.
#ThatsCub
Until tomorrow.