Would just like to preface this blog by saying I know nothing about boxing or MMA, I'm not going to pretend I do, and I really don't want to know/care about knowing. Now that that's out of the way, what the fuck was that press conference?
Believe it or not, this blog isn't at all about me slamming Conor McGregor. In fact, I fucking love him. He's an absolute crazy person who'll probably end up dying after he gets a gun pulled on him in a bar fight, but that's what makes his unique charisma.
As I mentioned before, I don't know a damn thing about Boxing or MMA aside from the big name guys. I'm also probably wrong but I feel like fighting sports are impossible to bet on and here's my reasoning. There's about a billion different ways someone can win and picking a round is basically guessing, which, frankly, is stupid. With these non-mainstream sports with a lot of hardos, you've gotta put some money on something or else its not as fun.
The "Fuck You" Suit
This suit is an ALL TIME GREAT Alpha move. McGregor could have walked up, read a Dr. Seuss book, and called it a day right there and then. At that point, because of the suit, he would've still won the presser. Who's cocky enough to get "FUCK YOU" stitched in about 100,000 times on a (probably) already five-figure suit… a Big Baller, that's who. Sign. Him. Up. Lavar. Conor McGregor is the complete embodiment of a Big Baller. BBB + McGregor collab = all of my money.
"Four Rounds"
Do I hope he knocks Floyd's punk ass out within four rounds? Hell fucking yeah. Do I think he actually will? I don't think so? The dude fights in bouts that are 15 minutes TOTAL. Boxing is, from what I'm reading, usually 30-36 minutes. So maybe he's got a shot. If he does, it's within those first rounds, cause after that, there's no doubt in my mind he's getting pummeled.
"Mr. Tapout"
Well shit. This is sure discouraging. I don't care how big you are, if Floyd "Money" Mayweather Jr. tells you he's going to knock you the fuck out, you bet your ass you're scared shitless.
"…Fucking Tracksuit"
Hahahahahahahaha… hey Conor, a word of advice, or rather, just an observation, you're fucked. Floyd is now going to murder your whole family while the world watches. Raggin on a guy not being able to pay his taxes, which are probably still more than your entire career earnings, is probably not the smartest move, but hey, you do you boo. At the end of the day though, he's right, he is in a tracksuit, which I guess is kinda a psycho boxing hardo move? Who even knows with that guy or this sport.
"Sr."
I'll admit, the Mayweathers just yelling random shit while Conor merely tried to answer  questions for the media is a sucker move. I mean, maybe it'd be intimidating the main perp was a 54 year old washed-up boxer with no muscle mass with the steroids worn off. Seriously consider hiring a hockey guy for the sole purpose of giving you chirps to throw McGregor's way cause getting shut down by him just referring to you as "Jr." and "Sr." has got to be one of the most humiliating things EVER.
Long Live The Champ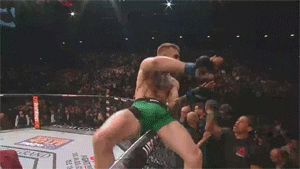 In the words of Dana White, which, analyzing the tape now have definitely come to fruition (on the subject of the presser and the boxing match as a whole), "a fucking shitshow… an absolute shitshow…". Ali v. Frazier pt. II, and I couldn't be more excited.
Until tomorrow.