Note: This blog is probably, and when I say probably I mean definitely, going to be nothing of actual substance. Most likely, its going to be me swearing and ranting about my pent up emotions as a pissed off Cubs and baseball fan (All Star Game shit too).
I don't give two fucks about no fucking home run derby, futures game, or the actual ASG. When Wade fucking Davis, a dude who wasn't even on your team last year, is your only all star from a World Series-winning team, you know you're screwed. Granted, nobody deserves it. In 2016, the year after the Royals won it all, they had four (all stars) and two starters. Meanwhile, we have the fucking landslide 2016 MVP hitting .260 something with half of his RBIs coming from homers. Great production, that can't fucking happen.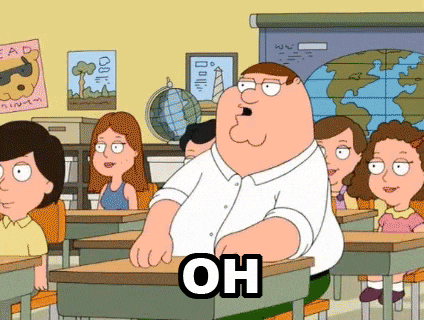 Another thing, why do people even care about the ASG now? It literally doesn't mean anything anymore, which, granted, is better than that stupid "the winning league gets home field advantage in the WS" bull, but if you're going to remove that, make something else up that makes it at least sort of meaningful. Going back to 1997, the year I was born, the NL has only won it three fucking times (and a tie but who cares about that). For those of you who can't do math, that means the NL is 3-16-1. Fucking abysmal, great job MLB, real exciting content there.
Lets get back to the Cubs. Hey Jon Lester, what the fuck are we paying you for? If we wanted a guy to get shelled for 10 runs and not make it out of the first inning, we'd bring back some garbage motherfucker like Edwin Jackson. All the same, I feel pretty confident that even though I haven't played baseball since I was maybe 12, I could get through an inning without allowing 10 runs, especially with the elite defense in both the infield and outfield, barring a Schwarbs start.
Theo Epstein, don't worry, I haven't forgotten about you. What the actual fuck does, "Our biggest fixes are inside the clubhouse" even mean? What're you going to do? Give a "ra ra, we won the World Series so we can bounce back from anything" speech to our shit for branding starting pitching staff? Yeah not a fucking chance in hell that'll magically transform them into their 2016 forms. Take some ownership in the Cubs shitty play. I'm not saying it's completely your fault, cause it's not completely anyones' fault, but saying we don't need certain positions/roles that we clearly do is garbage. Start with pitching, trade bats for arms, we have a million.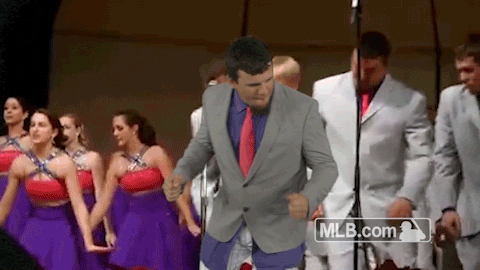 In other, more positive news, Kyle Schwarber is back and hitting, so thank god for that. Don't know why Ben Zobrist and Jason Hayward are consistently starting, let alone getting any playing time though. If it's cause we're paying them $14 and $20-whatever million respectively, that's horseshit. Those guys couldn't hit me they're so fucking bad.
It's more likely that not that I'll watch the home run derby tonight but everyone already knows it's going to be Stanton and Judge in the finals so I'm not too optimistic for any dark horses.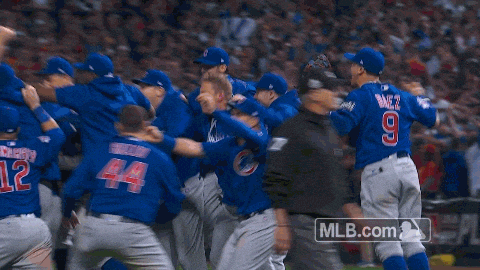 The Cubs need to get their shit together so we can get some more of this…
Even at 43-45, at least we're doing better than the fucking Cards, which isn't saying much as they're trash this year too.
Fuck St. Louis, Chicago's the greatest city in the world, don't @ me.
Until tomorrow.