Initial thoughts: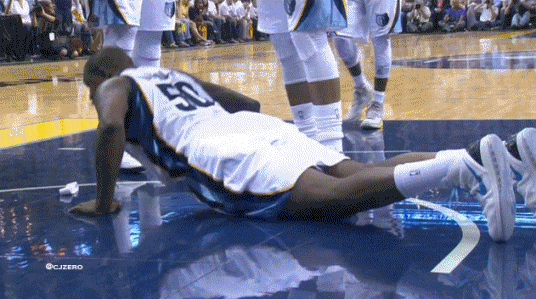 1. He played for the Griz for 8 years, which is definitely not long enough to get a jersey retired.
2. He accomplished literally nothing of value from both an individual and team sense in EIGHT YEARS.
3. This is the teams' first retired number. It'll probably be the only one for a good while, but why waste it on an obviously non-franchise player who's given the team pretty much nothing.
4. I don't know what drugs they're on, but I'll have whatever the Grizzlies ownership/front office is smoking right now.
The "Fan Fav" argument:
I get that he's a longtime fan favorite, who doesn't like watching a 6'9″, 260 pound BODY bully his way through 17 seasons in the NBA. At the same time, this retirement is like the Bulls retiring Joakim Noah's #13, which would also make no sense as he's also not yet retired and also doesn't even play for the team who's honoring him. While we're on the topic, at least Noah has won multiple awards, that in the grand scheme of things also mean nothing, but what does ZBo have to his name? Two All-Star appearances, an All-NBA Third Team selection, and a Most Improved award? Get the FUCK out outta here Memphis. Do you really want to become the Colts of the NBA? Raising banners for anything remotely close to important or worthy so it'll drive sales?
Widespread Confusion
I'm also confused at the fact that the Grizzles CHOSE not to resign him/offer him a bigger extension. While I think they did the right thing, if you're going to retire his number, at least keep him with the team until he retires, the guy's 35 and deteriorating, he's only got two more years max. I would love for it to come out that ZBo actually chose to sign in Sacramento. You know you're hopeless when someone leaves your team for the fucking Kings, the worst, and least historic of the California franchises. I can guarantee their GM is giddy with joy right now even though the only players he's signed are rookies, old dudes, and people with generic names you've never heard of. Don't even try to tell me you knew who George Hill was before this offseason.
I don't know if there are die-hard Memphis Grizzlies fans out there, I doubt it, but if there are, I'm sure they're just as perplexed right now. Congrats ZBo, you did a lot for the community, your medal is… the highest honor an NBA franchise can bestow upon a player? Uhh what? As a Bulls fan, maybe I'm stuck up, spoiled for choice (MJ, Scottie, Zen Master Phil), but I still think this is bogus. Cannot wait for more Zbo v. Blake Griffin battles now they're in the same division.
Mr. "First Team All-Defense" (Tony Allen) deserves it more. #9 forever. God Bless.
Until tomorrow.