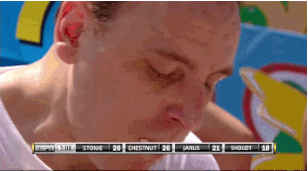 There's hope for fat, ugly, balding guys everywhere: teach yourself how to consume 70+ hot dogs and buns in under 10 minutes. That's not to say any of the contestants are repulsive physically, if anything, it's more so repulsive in the sense that they're shoveling an amount of food into the human body than is even remotely safe. As much as it may seem to the contrary, don't give care. Surprisingly, I find it thoroughly entertaining, from the intros to the trophy celebrations. Overall, it's fucking disgusting and makes me want to throw up, but still it's mesmerizing. If you couldn't tell, I'm a huge stoolie, and I'll always remember and love my intro into the hot dog eating competition world in 2013 with this video:
I love these guys who think they can beat Joey Chestnut. I don't know how the system works, but I think it'd be hilarious to figure out what goes through the mind of these regional hot dog eating competition winners. Like how boring is your life that you actually practice soaking pieces of bread and meat and then swallowing it all whole like a duck. No matter what you do or how hard you try, you will NEVER beat Joey Chestnut. The next closest rando had 51 eaten. That may have beaten that Japanese dude who won like 6 in a row in the early 2000s (America, fuck yeah), but Jaws' lowest ever total was 54, and he's averaged, over the past 12 years (contests), 63.5 hot dogs. If I were in their shoes, I'd make a mockery of myself on purpose. Make show out of my intro, hype myself up Lavar Ball-style in any and all on-camera opportunities (to go viral), and then relax and actually enjoy some free food.
Not sure how smart and/or legal it is to put the whole contest on YouTube, or in my case,  to embed it into a blog, but I don't really think I give a shit. God bless America.
Overall, this competition is the most American thing ever and I love it, but it's still absolutely fucking disgusting. If you don't agree, you're a commie. I'd sooner try to drink a gallon of milk in one sitting than participate in this stupid challenge. Content is king, but I'd only go so far. Congrats to Joey and his 72 hot dogs, have fun with your indigestion tonight.
AMERICA, FUCK YEAH! Happy 4th of July everybody.
Until tomorrow.