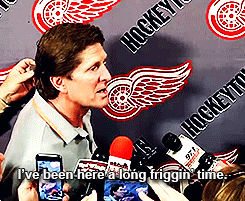 Damn it feels great to be right. I know I didn't make a predictions blog at the beginning of the season so technically you have no idea of knowing that I called this, but as a Maryland fan, I've been predicting the Terps as National Champs for probably the last 10 years, only to be let down. I may have been wrong on the majority of my betting lines and if I were a gambling man, I would have lost a lot of money. But, in the end, all that matters is the fact that the Maryland Terrapins are once again National Champions for the first time in 42 years.
The National Championship
If you didn't watch the game, here are some key points to know.
1. Tim Muller v. Tre Leclaire: Yes, I understand on the box score it says he had two points, a goal and an assist, but in his defense he was switched off him when he scored. Other than that and whenever that assist was, TM shut down Leclaire. Muller was also named the tournament's Most Outstanding Player, scooping up/creating what seemed like a billion ground balls and turnovers. Best of luck in the MLL Timmy, easily the best defender to come through College Park since Lee Zink.
2. Ben Randall v. Matt Rambo: I HATE Ohio State so this is hard for me to write but holding the all time leading goalscorer and overall point leader for Maryland (as well as points in tournament play, Big Ten Offensive POY, First Team All-Big Ten, First Team All-American, Tewaaraton finalist, etc.) to a goal and an assist when he came in averaging 6 points/game is damn impressive. Kids' also only a Junior so RIP every Big Ten teams' top attackman in 2018.
3. Jon Garino = The Messiah: On the season, UMD lead faceoff man Austin Henningsen was 46.7%, which, if you don't know what a good face-off percentage is, lemme tell ya, its definitely over 50%. Senior Jon Garino Jr. proved to be a savior for the Terrapins not only in the National Championship, during which he went 10/14 (71.4%) against Ohio State's Jake Withers (64.7%), but also in the quarterfinals v. Albany's TD Irelan (70.8%) and in the semifinals v. Denver's Trevor Baptiste (74.4%). The First, Second, and Third Team All-American FOGO's dismantled at the hands of a senior from Pennsylvania with little to no face-off experience going into the tourney.
4. The little guys: After watching his tournament performances, one could hardly classify Syracuse transfer Dylan Maltz as a "little guy" in the Maryland offense. However, in the eyes of the All-American committee, he wasn't deserving of an All-American spot, the only member of the Maryland front six to not be included. Two big goals and an assist in the National Championship and a spot on the All-Tournament team. Deserved. Adam Dimillo. If this was four years ago, you would've expected this. The #2 prospect ranked by Inside Lacrosse in 2013, Demillo hasn't exactly panned out like the Terps would have hoped. But honestly, who gives a shit. Two goals out of nowhere in the National Championship after goose eggs in the previous two games. Big
5. Goalie play: In short, both Dan Morris (Maryland) and Tom Carey (Ohio State) played out of their minds, at times single-handedly keeping their team in the game. Morris ended the game with 11 saves on 17 shots, accumulating a 64.7% save percentage while Carey finished with 13 saves on 22 shots, a 59.1% save percentage. The long line of legendary Maryland goalies: Niko Amato, Kyle Bernlohr, Brian Phipps, Harry Alford, Brian "Doc" Dougherty would be proud Danny boy, and you've still got another year to add to your legacy.
6. Team play: Everything was clicking at the right time for Maryland. The attack, middies, defensive middies, defenseman, face-off production, transition offense, ground ball/caused turnovers hustle, and unbelievable goalie play. Unbiased, I've never seen a more complete team top to bottom and I don't think there will ever be another Terps team as good as the one that took the field and ended the 42 year drought this Memorial Day.
God bless John Tillman, the seniors, and all the rest of the 2017 Maryland players and staff. You, my friends, are immortal in the hearts and minds of Terp fans everywhere. From the bottom of my heart thank you, it finally fucking happened.